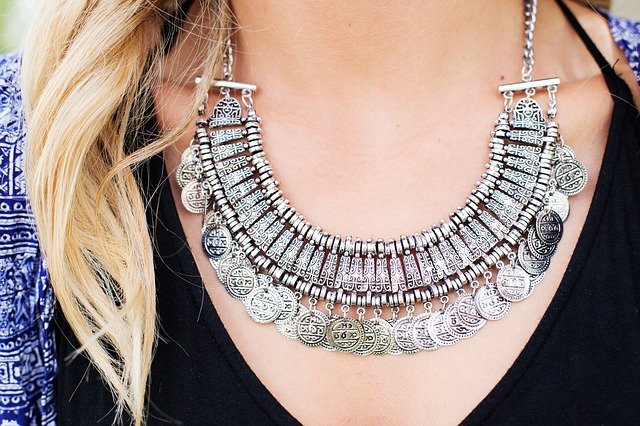 Retro is still coming back, and that's true not only on show fashion mills, but also in jewelery. Returns models that once flew. So if a woman has a quality jewelery in her jewelery, she can easily pull her. In conjunction with retro style clothing, it will be interesting and fresh. But of course it is not all. There are other styles that turn jewelery into a fashionable addition.
Bet on simplicity and asymmetry
The course includes modern simple jewelery. Do you feel that a massive but lightly worked piece of metal or glass is clumsy? But jewelers are different. Combined with simple dresses made of natural materials or a coarse knit sweater, they will be freshly modern. Not to combine with romantic lace clothing, they would act as a fist on the eye. The times of sophisticated jewelery jewelery are gone. They wear simple, extravagant artifacts that catch at first glance. Do not even worry about asymmetric elements. Do you have long hair? Fold them on one side and put a large, distinctive earring on the other.
Trends are collars and robust bracelets
The collars around the neck are also coming back. It does not have to be just about decent thin rings with a small stone. On the contrary, if you want, just go for a massive hoop, like a big stone. But be careful, the collars are good for women with a slender neck. For thicker neck, longer chains are more suitable for the attention of massive body parts. But you can boldly add them with a bigger jewel. There is no need for necklaces. Just choose one with fringes. Hippie style is still popular, and if you love it, there's nothing to deal with. Attention is also great massive bracelets. They can be made of metal or other materials. The simple casual dresses will work well. Rings may be similarly robust. An excellent accessory to jewelry is a stone of color and shape.
Timeless elegance always captivates
When the jewelery is so good. No cheap strass beads for a few little ones. When you want jewelery, choose a brand that will hold you some Friday and will not look cheap at first glance. A great choice is offering timeless jewelry. By the way do you know that the founder of Daniel Swarovski came from Bohemia? He was born in 1862 in Jiřetín pod Bukovou near Jablonec nad Nisou, ie in the region famous for the production of jewelery. He was able to design a crystal grinding machine, and the factory he founded at the end of the 19th century in the Austrian town of Wattens near Innsbruck exists and still works today. He makes Swarovski elements, crystal crystals, which serve jewelers and garment manufacturers. If you reach for Swarovski jewelry, be sure you will not be robbed. They symbolize tradition, quality, simplicity, precision, and elegance. This is a timeless fashion that you always make and fit for both evening dresses and casual wear to work.