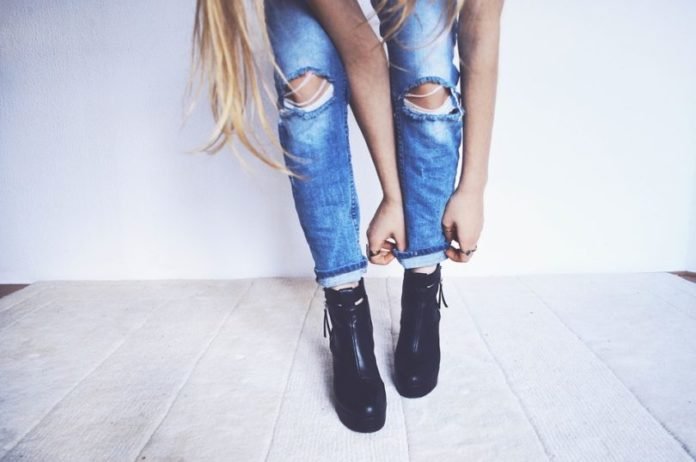 Denim will remain forever an ageless classics of our wardrobes. You can buy new pieces or search in the wardrobe, but fashion trends are constantly being repeated.
Originally, it was a material for the production of work trousers, but over time its popularity has expanded and nowadays it occupies the leading positions in the ranking of all fashion collections.
Little dictionary of jeans trousers
This material, because of its properties, is used in various types of clothing. With denim we have skirts, shirts, dresses, vests, jackets, but most often appear on trousers. We can dress up in several different kinds.
Skinny
They tightly enclose the figure. Thanks to the elastane that is contained in the fabric, they are flexible and therefore very comfortable for everyday wear. They are ideal for a slim figure.
Slim
This kind of trousers is a bit narrower than the classic cut. They are so intimidating to the figure as skinny, so they can wear even more feminine figures.
Mom
They are inspired in the 1990s. They have a high waist and straight legs. Thanks to her cut, she highlights the waist and flattens the female curves.
Boyfriend
They usually have a lowered saddle and free trousers. They are ideally suited for heels with heels. The top of the garment is suitable as a suitable accessory.
Straight
The classic straight cut, the trousers are neither narrow nor wide.
Flare
These trousers are slowly expanding from the knees downwards. They optically lengthen their legs and also take extra pounds a little. It was a great success in the 1970s.
How to care for jeans?
Since the fabric is damaged and the denim is not an exception, it is necessary to use a gentle program, reversed and without softening.
Since the natural quality of the denim is coagulation, it is necessary to stretch the wet clothes first and then hang it.
Sometimes it may happen that jeans wear color, so you prefer to go alone.